Approaching 60 years in the industry, Hicks Transport Group is one of Australia's leading transport operators.

Based in the Murray River border town of Cobram and with offices and depots in Shepparton, Melbourne, Sydney and Brisbane, the privately-owned family business boasts a 70-strong fleet of vehicles – prime movers, container side-loader, refrigerated transport and various other trailer types – that provide daily services between Melbourne and Cobram and surrounding regions, interstate services between all major eastern seaboard cities and South Australia, and cool-room and dry storage services.
The late founders, Brian & Lorna Hicks, established Brian Hicks Transport in 1968 in the small community of Koyuga (near Echuca in northern Victoria). At the time Brian was living and working on the family farm, consisting of beef cattle and cropping. Brian used the farm truck – a D-Series Ford rigid with dog trailer – to cart his own hay and produce and soon began carting goods for neighbouring farms for payment, including a trip to Sydney – the first of many interstate journeys.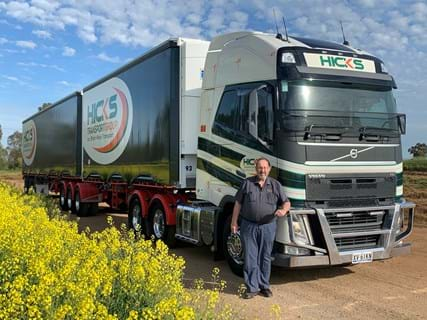 "When I started out it was just as interest, subsidising my farm work," Brian says. "I'd always had a passion for trucks, back to my school days. I always had a yearning to do it."
Marriage to his late wife Lorna and four children followed as Brian continued as an owner-driver in Koyuga, his passion for the transport industry growing each year. In 1981, Brian purchased another truck – a Scania 110 – to extend the services provided for neighbouring farmers to local businesses in and around the township of Echuca and Koyuga. He employed his first full-time driver.
In 1989, Brian and Lorna decided to sell the farm and relocate the young family to Cobram when an opportunity to purchase P.Pullar & Co. Transport – consisting of three trucks – presented itself.
Four years later, in 1993, Brian purchased the block of land where the current head office and main depot is located, which includes maintenance and refuelling facilities. That same year, Brian and Lorna's eldest child, Leigh, was tragically killed in a truck accident. "It was a tough and tragic time, but we had to soldier on," Brian says.
This hard-working ethos has paid off with the business experiencing significant growth since, with a series of company and vehicle acquisitions and a growing foothold in the Goulburn and Murray Valley's fruit market.
As for the next chapter, Brian's continuous philosophy always was and continues to remain the same: "The plan is to improve on what we do and if any other opportunities come along we'll evaluate them. We have a lot of leads across various industries, and potential things in the pipeline."
Hicks Transport Group is proud of their long-standing history and contributions made to local families and the community, and looks forwarded to servicing our clients for many years to come.